I created this piece on July 26, 2015.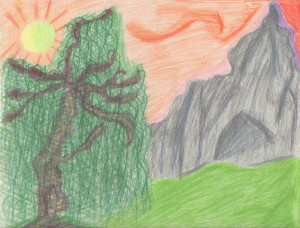 The other weekend, I picked up some new Crayola colored pencils, because they looked to have good variety and vibrant colors. This piece is largely done with those. My other colored pencil set is more muted, and they're in here a little.
I wanted to practice trees and mountains here, since they're not my strong suit. The sky was a fun way to throw in some other colors.
The paper is larger than the scanner in one dimension again, so a piece got chopped off. That'll be a trend with pieces I've done on this size paper. Oh well, onward! Thanks for checking out my piece.