I recently re-watched The Dark Knight with a few friends. I have to say that Heath Ledger's Joker is my favorite movie character. Ever. In light of this realization, I decided to take a picture of myself and "Jokerfy" it. The inspiration comes from the "I Believe in Harvey Dent" viral campaign which preceded the movie's release.
Here is the image I decided to use. Just snapped it myself using my HTC Touch Pro's 3.2Mp camera. That lighting was a pain to get right!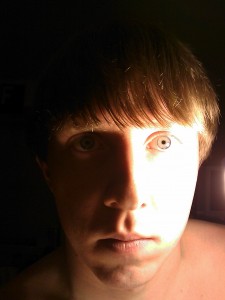 My first attempt at Jokerfying myself was straight and simple. Took the original photo and overlaid my modifications. No changes to the base photo whatsoever.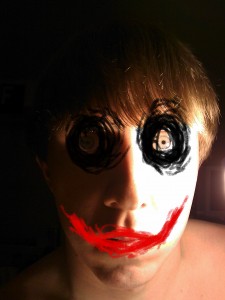 Next, I decided to play with the base photo some. The stock photo gave a nice lighting contrast between the sides of my face, but I wanted to see if I could make it look like I was wearing some white makeup, as the Joker usually does. I played with the hue/saturation until I had removed a considerable about of the color… but not all of it. The tint keeps it from being black-and-white and adds a little more to it that way.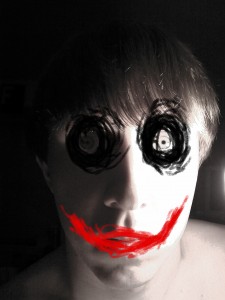 I am pretty happy with that result, but wanted to try for something a little more odd or even darker. I decided to play with the Curves tool, since I haven't done it a lot. I zapped a range of colors from the base picture. The effect is that it looks almost cartoonish. The effect makes it feel a bit more like Joker, in some respects.  I love the way it highlights only one side of my face, and the red mouth extends into the black. The eye also reminds me of the Eye of Sauron (from The Lord of the Rings, for you who are unfamiliar).  The left side of the image being essentially black also a gives the image an interesting offset. It has more character that way. I am very pleased with this last result.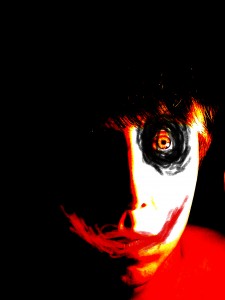 I usually refrain from interpreting or in-depth descriptions of photos, and even though a lot of these photos was happenstance, I had a goal in mind!  I hope you enjoy these and please let me know your thoughts.  Have you ever Jokerfied yourself? I'd love to see your results.