Grays and Torreys Artwork
I worked on this August 11th and 13th, 2015.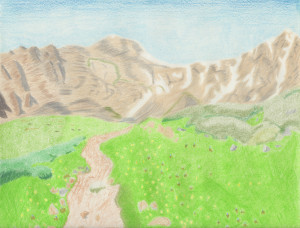 A few weekends back, Karla and I hiked the Grays and Torreys peaks. Both these mountains are over 14,000 feet tall. Mountains above that height are lovingly referred to as 14ers by those who enjoy hiking them.
It was the first time she and I had hiked a 14er together. In fact, it was her very first time hiking any 14er. This was my 4th time hiking these peaks, but I enjoy them a lot. They are close to Denver, and you can do dispersed camping at the trail head. They're certainly not an easy hike, but, among 14ers, they rate as two of the easiest. They're very popular and I'm sure hundreds of people hike them each month in the summer. We both enjoyed the hike, views, and camping of that trip.
This past Thursday, Karla and I celebrated the one year anniversary of when we first met. Part of my gift to her was the mountain scene drawing above. I'd taken photos during the hike, and used one of them as reference for my drawing. This is in the morning, along the trail that leads up to both peaks. The saddle you can see in the picture is what connects the two peaks, and that's how we made it from one peak to the other.
This piece took me somewhere between 4-5 hours, I think. I've really enjoyed using my colored pencils recently, and I liked making something by hand for Karla to celebrate our relationship. I feel I've increased my drawing ability too, which is exciting as well.
I hope Karla enjoys this as much as I enjoyed creating it!