I have done some coloring and drawing recently, but I haven't gotten around to posting yet. Until now!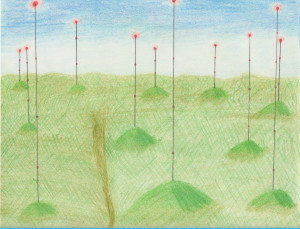 I can't remember where I had this idea. It was either inspired by this place not too far down the road from me, or I saw something like it in a dream. Either way, I had been thinking of this idea for a little while, and got the urge to color it. It's nice to take something that's been rolling around in your noggin and turn it into an actual thing. And tonight I finally got around to posting it on the blog.
I created it on July 24, 2015. The coloring pencils I used for this piece are more muted than some other ones, but I think they lend well to the scene and tone.
A small portion of the bottom has been clipped off because it didn't fit on my scanner, You can see some distortion there, because of that, but this is than nothing.
Not too much else too this picture. I hope you enjoy it!
I'll soon share some other pieces I've recently worked on.